For Sale
---
18th century Chamber Organ.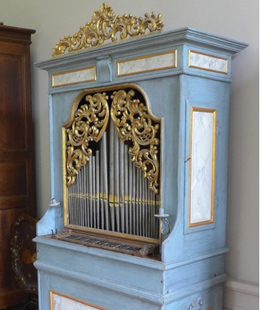 This instrument is offered for sale, on behalf of a private client. All enquiries welcome. Please email, or phone the workshop on 01368 830611.
The organ is dated 1705 on the upper board, and this appears to be correct for the style of the case.
The registration of 8', 4', 2', 1' is typical for a South German instrument; the metal pipes are original and in good condition; the wooden pipes are also in good condition but some have been replaced.
Gilding is late 18th century.
The profile and proportions are excellent.
Dimensions of the organ are:
height: 196 cm, + 27 cm for the gilded 'crown';
width: 120 cm;
depth: 61 cm.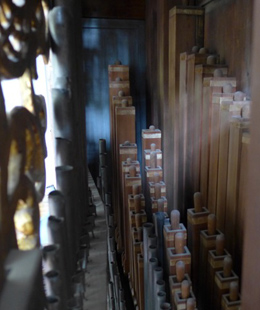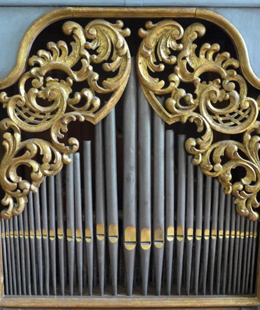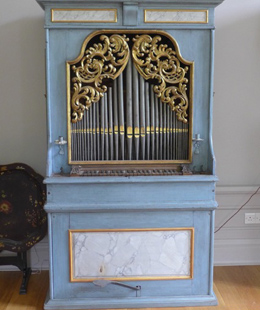 The current owner purchased the organ from an antique dealer in The Netherlands, who bought the instrument from an antique dealer in Graz, Austria. It was restored by the respected organ building firm of Reil (under the direction of Albert Reil) in Heerde. It is believed that the organ was built for a chapel in Bad Radkersburg in Austria, but there are no further details.
----------
Opus 74: chest organ with four stops, including a facade of 2' Principal pipes. This instrument is currently under construction. For price and other details please email, or phone the workshop on 01368 830611.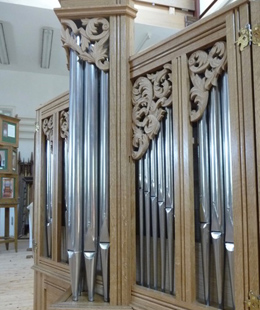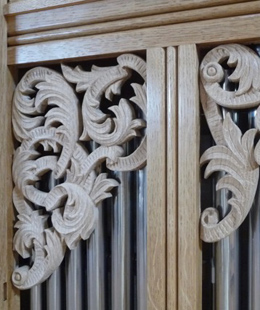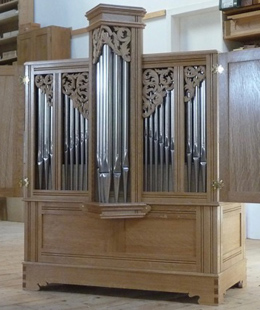 ---
Renton Organ Case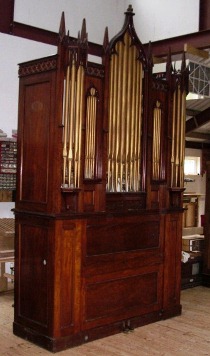 Towards the end of 2005 we acquired the splendid mahogany case, together with gilded dummy facade pipes, bellows and assorted internal maerials of a rare John Renton chamber organ. It was planned to restore this instrument to its original condition and specification, but alas, some vital parts have been lost or destroyed.

The original specification was:
One manual GG to g"' - 61 notes
Stopped Diapason
Bass and Treble
Principal
Bass and Treble
Octave Flute


Fifteenth


Viol de Gamba


Kerolophin
from Tenor c° in a swell box
Silistinia
from Tenor c° in a swell box
Dulciana
from Tenor c° in a swell box
Dimensions: 3350mm high x 1870mm wide x 725mm deep
The organ was known to arrive in Fortrose Parish Church in 1911 but was probably built before 1864. It was removed in 1986 by the late Hugh Ross on behalf of the Scottish Historic Organ Trust with the intention of restoring it.
We now intend to design and build a new instrument within this case in an appropriate style (and using pipework from the original instrument), and would be happy to discuss our proposals with any interested party.