Restorations
To date we have undertaken a small number of commissions to restore historic instruments which retained the original builder's materials and design concept, notably chamber organs in the Canongate Kirk, and St Mary's Episcopal Cathedral, Edinburgh.
We have also been able to use our design flair and craftsmanship to embellish more contemporary instruments such as the Chapel organ in St Andrews University, Scotland (see image on right).
Example of work carried out in 1998 on the Russell organ soundboard to repair splits in soundboard table. Affected areas were routed out and new material inserted. Bars were then flooded with animal glue from inside. Table surface and grid were then planed flat. Sliders and pallets were refitted to flattened surfaces.
Restoration work is also carried out on organs not so old. Two Nigel Church organs have recently received revisionary attention and thorough cleaning.
In the organ of St Philip and St James, Edinburgh, the synthetic materials used in the wind regulators were replaced with traditional bellows leather to steady the wind supply by making the regulators more responsive as well as wind-tight.
The Wallsend instrument constructed in consultation with Georges Lhote represents perhaps one of the high points in the Church & Co. history. This instrument received a thorough cleaning after some decades of service. Some pipework was also re-regulated (including the removal of a dead blackbird from one of the Pedal Trumpet 8' resonators!) and the tuning was re-set.
Canongate Kirk, Edinburgh: Organ by J. & A. Mirlees of Glasgow. The restoration work carried out on this chamber organ in 1991 included the provision of a new blower motor which works in parallel with the still fully functioning feeder bellows system.
Lodge St Ebbe, Eyemouth, Berwickshire: Built by James Bruce. Restoration work included releathering the bellows, and the removal of the 2' Fifteenth and 16' Pedal stop - examples of poor workmanship with pneumatic actions, and sited in an alcove behind the organ case with no access for tuning. We returned the organ to its original size and specification.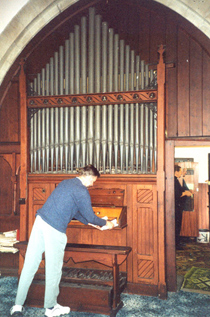 During 2001 we completed two interesting restorations. The first was a one manual and coupled pedal organ built in the 1880s by F C Nicholson of Newcastle upon Tyne, moved from St Peter's Church, Cambois, Northumberland (see photo right) to the newly renovated church of St Margaret, Scotswood, Newcastle. St Peter's Church, Cambois is no longer used and was extremely damp and cold. The organ was completely re-leathered, a new blower motor was fitted into the lower case, and a new back was made for the pine case. Metal conveyancing to the front pipes had to be renewed in part because of damage, but original materials were retained whenever possible. The keyboard naturals were recovered with new bone. It's specification is as follows:
| | | |
| --- | --- | --- |
| Open Diapason | 8' | from F# in case facade - the lowest 6 notes are wooden open pipes |
| Octave | 4' | also partly in the facade |
| Lieblich Gedackt | 8' | |
| Viola di Gamba | 8' | lowest octave common with Gedackt |
| Lieblich Flute | 4' | |

The second restoration was a bureau organ (see photos below) removed from the chapel of Kings College, London. It was formerly the property of Prof. Thurston Dart from 1951, and was housed in his rooms at Jesus College, Cambridge. In 1964 it was transferred to the Faculty of Music in Kings College, London and remained there until Prof. Dart's death in 1971 when it was moved to the chapel. In 1964, Mander's fitted a blower motor bracketed onto the back of the case with metal bracing supports. The divided Sesquialtera was also perhaps at this time remodelled as a 2 rank quint mixture and tuning slides were fitted. When the organ was placed in the chapel, it was put next to a 4" cast iron hot water pipe - consequently, the case, bellows and soundboard were all split virtually from end to end, and nothing was playable. It's specification is as follows:
| | | |
| --- | --- | --- |
| Stopped Diapason | 8' | Pine with oak blocks, stoppers and caps |
| Nason Flute | 4' | Pine with oak blocks, stoppers and caps |
| Fifteenth | 2' | Plain Metal |
| Mixture | II | Bass and treble, plain metal |
| | |
| --- | --- |
| | |
We have carefully repaired the bellows, including the feeder bellows, to a fully usable state without needing to completely re-leather. The soundboard had to be repaired, flooded with hot glue and re-palleted. The organ is said to be by John Snetzler, but the bottomboard had on it the name "Charles Crole No 2" in flowing copper plate! No mention of this individual can be found. Various wooden pipes have been reglued and all is now functioning. At some stage in the past, the action stickers were cut down and adjuster screws drilled into the keyboard. It was not possible to remove these without replacing all the stickers, so we had to leave this arrangement in place. The position of the bellows within the case has been raised and there are at least three generations of alterations to the stop action and shifting movement mechanism, but as they are functioning, we left well alone.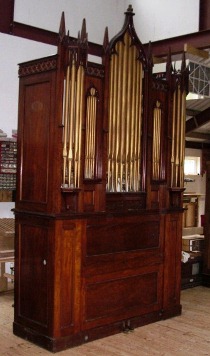 Towards the end of 2005 we acquired the splendid mahogany case, together with gilded dummy facade pipes, bellows and assorted internal materials of a rare John Renton chamber organ. It was planned to restore this instrument to its original condition and specification, but alas, some vital parts have been lost or destroyed.
The original specification was:
One manual GG to g"' - 61 notes
Stopped Diapason
Bass and Treble
Principal
Bass and Treble
Octave Flute
Fifteenth
Vilo de Gamba
Kerolophin
from Tenor c° in a swell box
Silistinia
from Tenor c° in a swell box
Dulciana
from Tenor c° in a swell box

Dimensions: 3350mm high x 1870mm wide x 725mm deep
The organ was known to arrive in Fortrose Parish Church in 1911 but was probably built before 1864. It was removed in 1986 by the late Hugh Ross on behalf of the Scottish Historic Organ Trust with the intention of restoring it.
We now intend to design and build a new instrument within this case in an appropriate style (and using pipework from the original instrument), and would be happy to discuss our proposals with any interested party.